Homework on board
It is not called School at Sea for nothing. While underway, you will continue to work on your regular schoolwork. You will keep up with your classmates at home. You will take the same tests as them, enabling you to rejoin them in April.

Watch days and school days
On board, day to day activities are neatly structured and ordered. The group is split in two. Any given day, one half has watch and the other half has school. On watch days, you sail the ship. And on school days, you work on your homework and tests.
School days have start times, break times and end times, but you decide how use the time in between. Together with one of the teachers, you plan your schoolwork. You decide when to do what subject and what the optimal preparation for tests is for you. Your school will send us tests as we go and you will do those tests on board. You use your experiences from the ship in your schoolwork and vice versa. Theory and real life applications go hand in hand during School at Sea.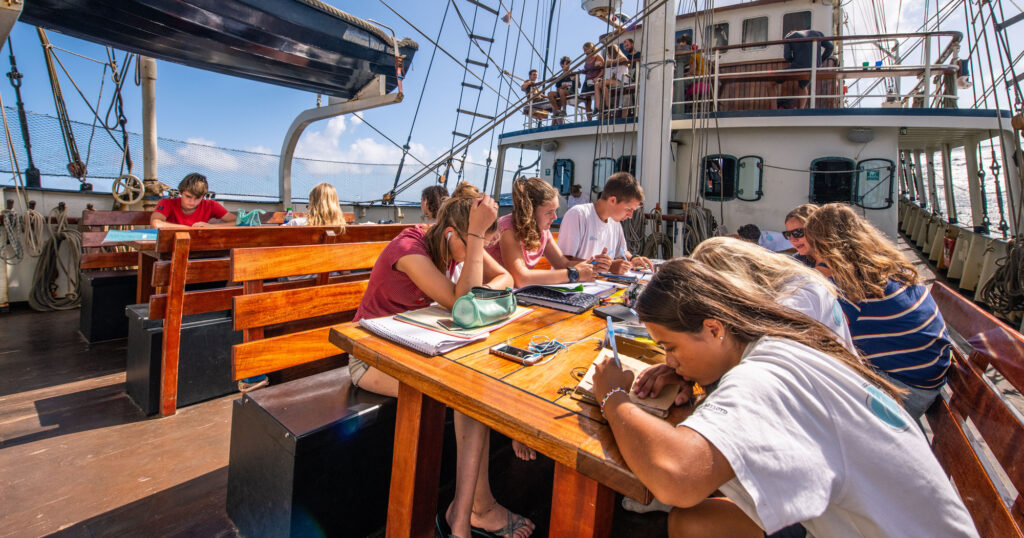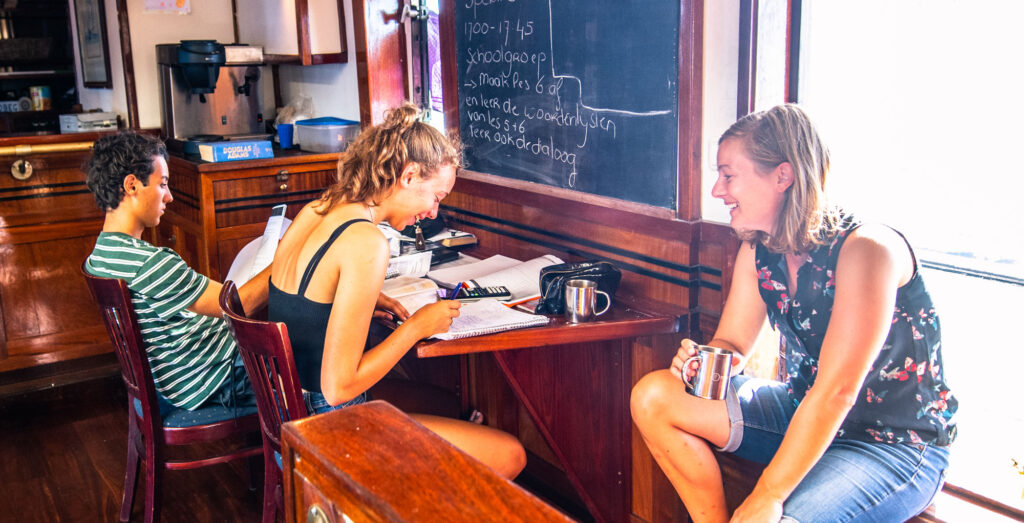 Study skills
School at Sea teachers can help you develop your study skills: planning, focus, taking notes, time management. However, it is up to you to ask the teachers for help. After all, you are responsible for your own achievements. Keeping your grades up is part of the challenge of boarding for School at Sea. Teachers will gladly help. But it is up to you.
When you run into problems, we will look for a solution together. Be responsible and ask for help on time!
Keeping up
You will know exactly what to do during the journey. School at Sea starts at home: working together with your school you will make an overview of the work for the coming six months. You will talk to your individual teachers about what you have to study and what tests you have to do. Along the way, School at Sea will send your school updates about your school progress and your personal development.
If you use your school days efficiently, you should have no problem rejoining your classmates in April. There might be some catching up to do, for example for science experiments that you could not do on board.
If we notice you starting to fall behind during School at Sea, we will search for solutions together to help you do your schoolwork more efficiently.