On board
During School at Sea, you are always working on your personal growth and development. Sailing, homework and expeditions form the foundation of your experiences. When sailing you have watch and are involved in keeping the ship going forward, while school days are for focusing on your homework. And you will learn much more, because School at Sea also offers the opportunity to learn about things outside of your high school courses.
Before boarding, you decide on your personal development goals. These might include improving your communication skills, increasing your confidence of learning to stand up for yourself. On board you will work on these goals, supported by the teachers and crew members. You might adjust, expand or reformulate your goals as you go. All of this is written down in your School at Sea story – a reflection portfolio of your journey and your personal development on board.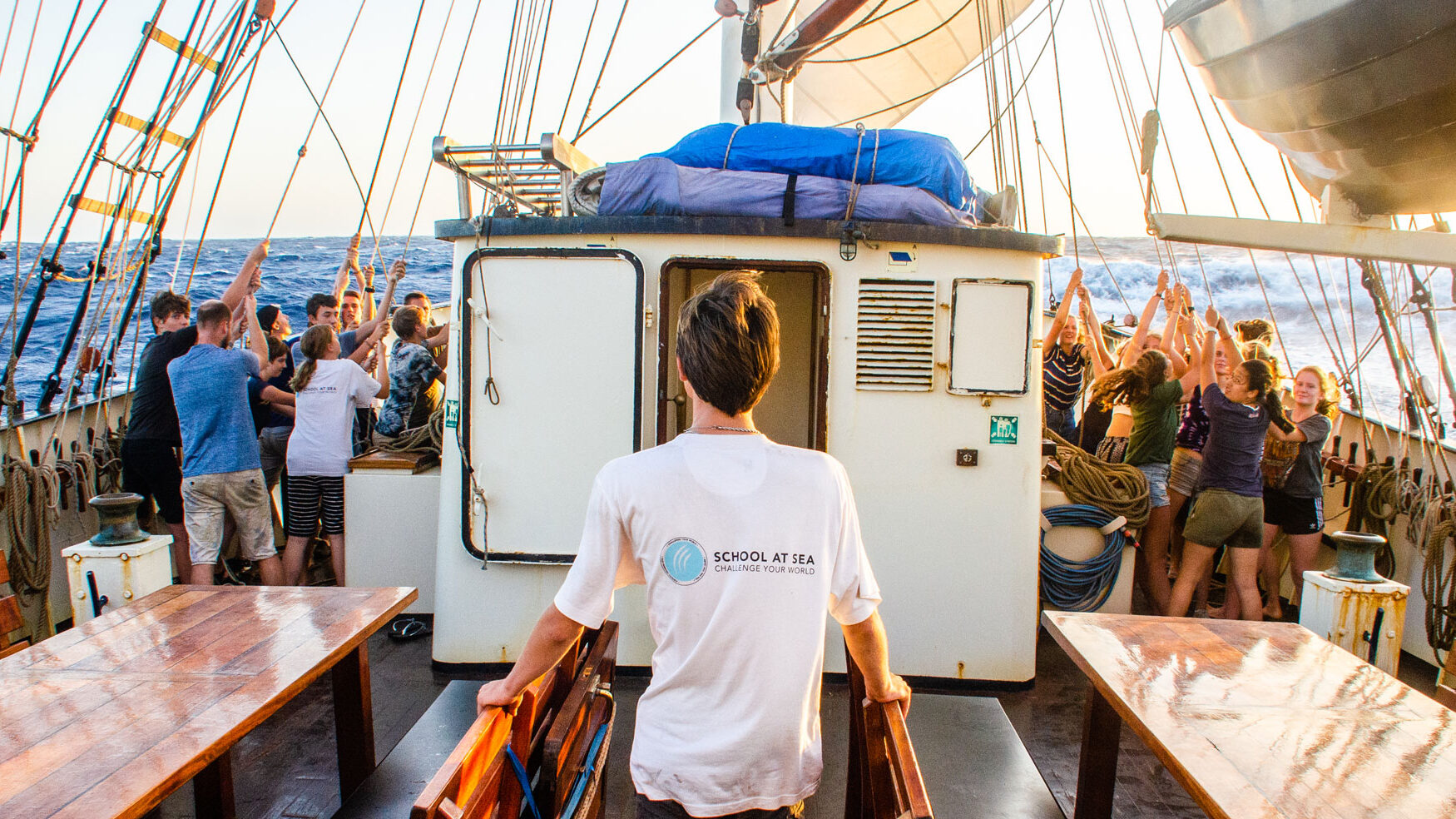 Sailing
The rigging, the navigation systems, the engine room, the wind, the course, the currents… Sailing a three-master can be quite challenging. Our sail training programme helps you to acquire all the nautical knowledge you need to sail the ship.
Bur sailing across an ocean is much more than knowing where the downhaul of the main sail is.You will have to work together, be a leader, communicate clearly, take or share responsibility and learn to deal with tricky or tense situations. At sea you will be challenged and you will learn more about yourself and each other.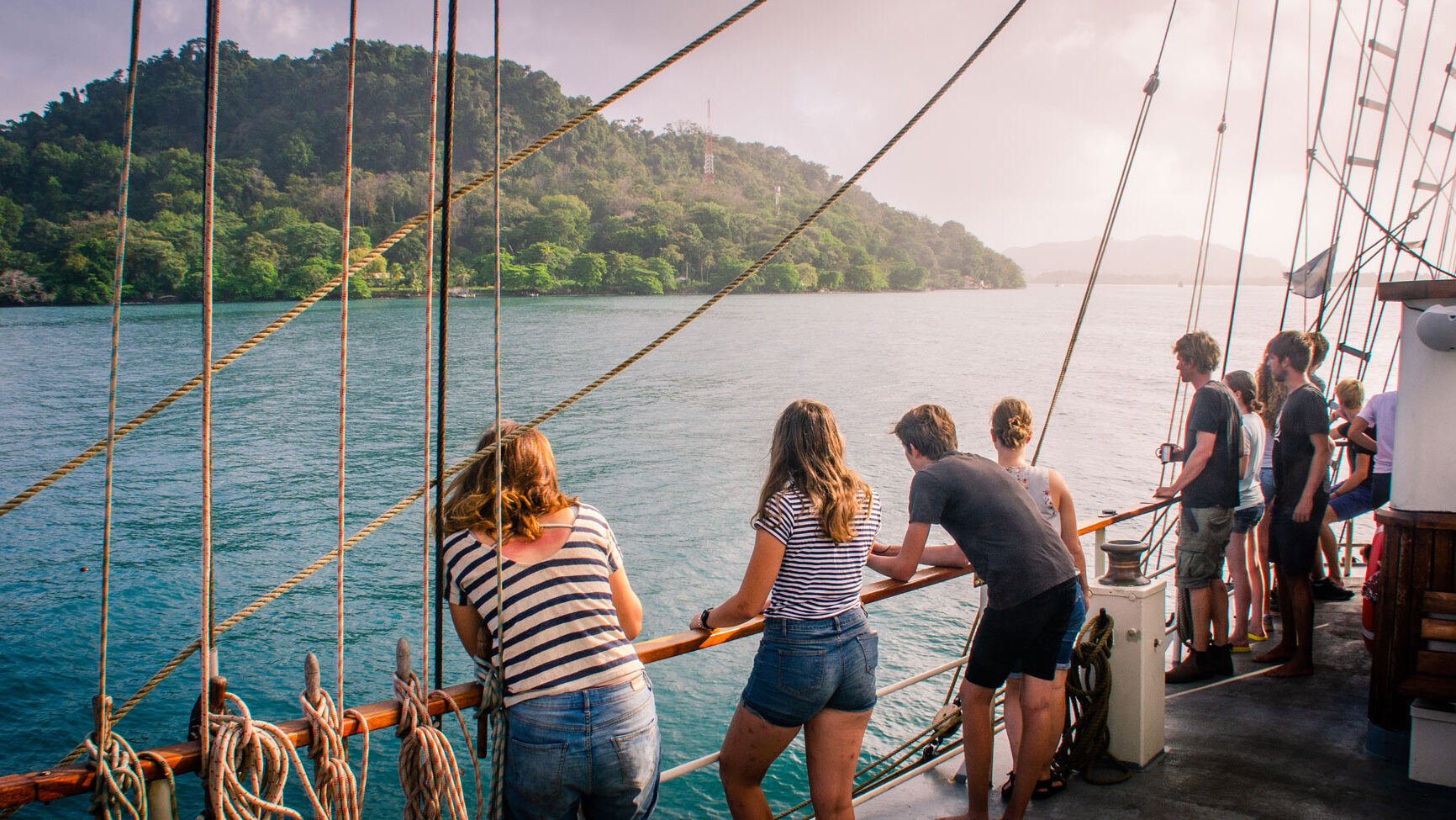 Expeditions
Along the way you will visit many different countries and islands and meet other people and cultures, providing a perfect opportunity to explore and travel while learning valuable life lessons.
At first, the expeditions are comparable to your own high school excursions. As the journey progresses, the expeditions become longer and you will be more involved in planning and organising. About halfway, you will have one or two "independent journeys" in which you and your group can decide where to go and what to do. But you also have to take care of yourself and each other. Where will you sleep and what will you eat? This is all about being able to live independently, but also about working together. You will definitely remember these expeditions!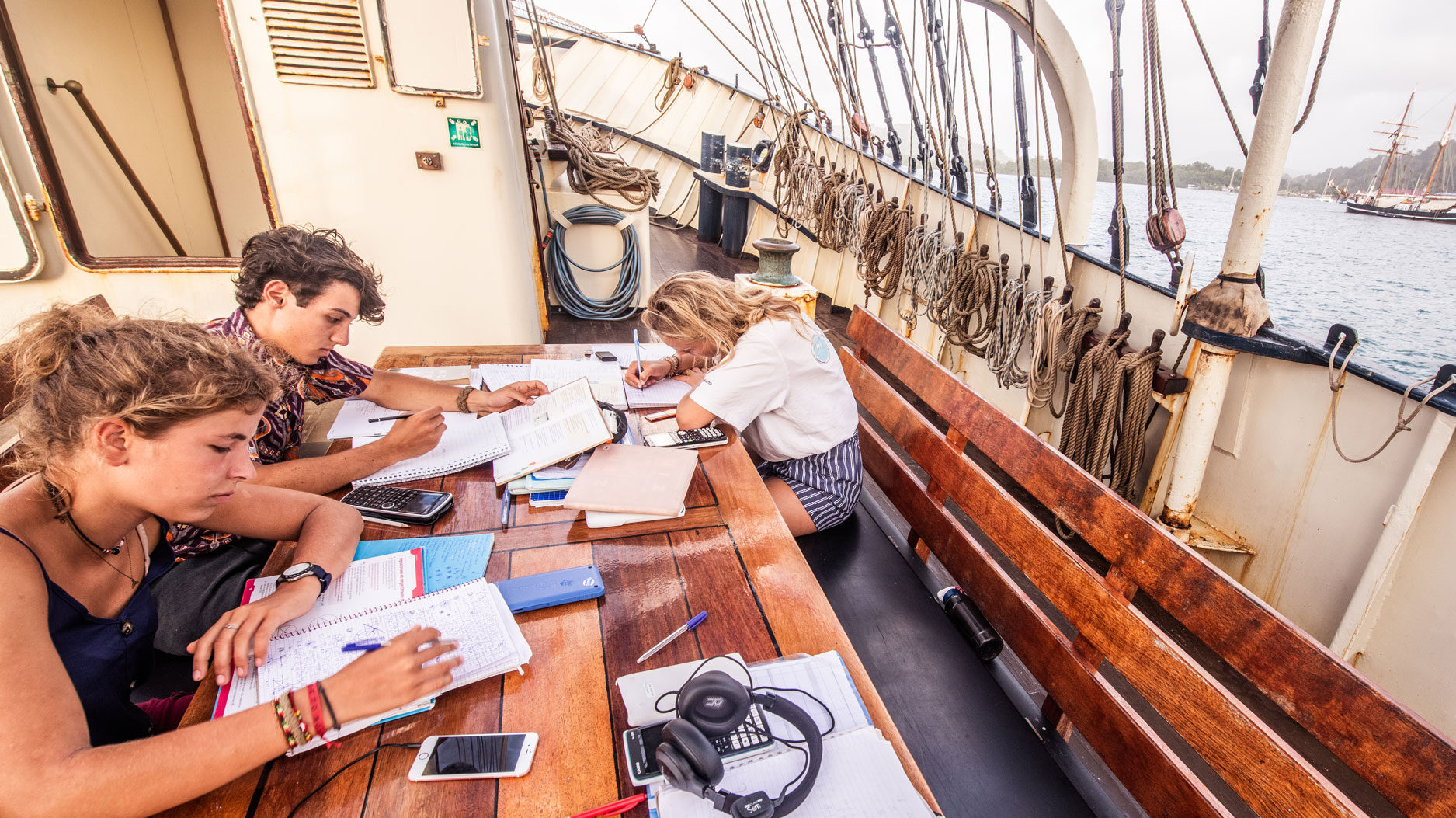 Homework
Doing your homework on a moving ship with a lot of activity all around you, is very different from what you're used to. Focus is the main challenge! We will help and support you, but we are not going to do the work for you.
On board, you will work on the same courses as your classmates at home. You will do the same tests, making sure that you are able to rejoin your classmates once you get home. The teachers on board are all certified and are able to help with a variety of school subjects. They can answer specific questions you might have, but also explain the broader concepts if you get stuck.
The journey
The itinerary and destinations are not set in stone. We decide where to go based on wind and weather. You will definitely cross the Atlantic Ocean twice, using different routes for both crossings. The halfway point is Panama, where you will step ashore to discover the country yourself. You will leave Panama heading north, which will be the first following that course since October. This signals the start of the journey back home, which will take three more months and will lead you to Cuba, Bermuda and the Azores.